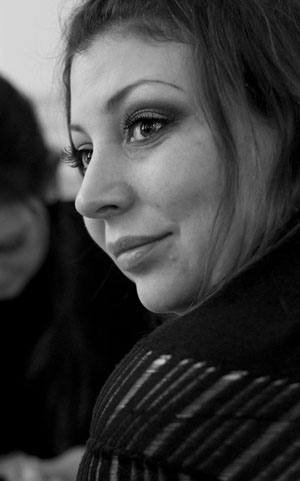 Once again it's time for a Beauty Blogs' Backstage Interview! This month I was sorted to interview Helen, co-author of Just Nice Things, which happens to be among the first blogs I followed after I got addicted to nail polish, and fellow polish addict. Unsurprisingly I especially enjoy Helen's in-depth nail polish reviews and highly recommend taking a good look at her comparison of quick-drying top coats, which is incredibly detailed and critical.
Now let's see what Helen shared with us.
1. How do you feel about seasonal colour schemes?
In terms of makeup and nail polish, I always reach for golds and smokey browns during the Autumn. Red glitter at Christmas. Pinks and corals in the summer. So I guess I'm an inadvertent  subscriber!
2. What's your secret weapon when it comes to keeping your nails that long?
OPI Nail Envy. I've been using it for years. It got me through the pain of acrylic recovery and I've been using it ever since. Oh, and wearing gloves when cleaning. And persuading my husband to do all the washing up!
3. Describe your ideal nail polish formula, please.
Rescue Beauty Lounge. Or the OPI foils from the Burlesque collection. And recently I've discovered Nina Ultra Pro which is pretty amazing. Illamasqua also have nailed the perfect formula   - it's awesome. I'm not bothered about chips as I change it so often, so for me, application is king.
4. I'm sure you too spend rather large amounts of time writing and reading blogs. What do you do when you need to get away from it all for a bit?
Go to work! Seriously though, I love eating out, seeing my friends and shopping.  I'm an avid reader too. Plus my husband's obsession is AV stuff so we watch a lot of films on our big screen. Bliss. Oh and I love to cook. It's a busy old life.
5. Which language do you hope to learn one day?
I learned German & French at school. I'm always jealous of people who are bilingual as their job prospects must be awesome but I'm ok with the fact that I'm probably not going to learn another language now. Although I never knew the language of nail polish til two years ago. Creme? Jelly? Foil? Duochrome?
6. Who makes you all fangirly?
Nikki Sixx from Motley Crüe. He's laminated.
7. Tell us something about living in the UK that non-Brits might not know.
You can buy charcoal for a barbecue at petrol stations at any time of year.
Thank you, Helen, it's been fun! And I absolutely agree with you about Nail Envy, by the way, it's the best base coat I've tried so far.
And lovely readers, please head over to Just Nice Things and enjoy Helen and Sheenie's posts.